February is the month of love! Whether it is love for your spouse, your family, friends, or pets, February is traditionally the time to show appreciation for all of the ones we love. But let's not forget about the homes in which we live! They protect us from the elements, provide us with stability, and are reflections of those who live within the space. Sometimes life happens, and all of the sudden, we realize that our space could use a little TLC. We are excited to share 5 ways that you can love your home, so it can be the perfect home base for you and your family.
1. A Decluttered Life
We've all heard of Marie Kondo and the life changing magic of tidying things up. Cleaning your home almost feels like clearing out your mind. We know – this is easier said than done. While it can be overwhelming, going through your house room by room is a great place to start.
Clutter is almost inevitable in life but taking the time to check out your space and clean it up not only allows us to enjoy our space more but can lead to more productivity and less anxiety. Begin by blocking out a specific time of your day and dedicate it to organizing a specific space in your home. For example, designate a drawer in your kitchen for the items you reach for daily and consider using a space in a linen closet for what you only use only on occasion.
Quick Tip: If you have furniture with storage, take advantage! You'll be pleasantly surprised by how much space you can save by using these items.
The most daunting space can be the closet – you'll be tempted to keep everything as is. A good rule of thumb is to get rid of items you haven't worn in a year. We all have special occasion outfits – we're not talking about those. We're talking about the sweater that you like but is extremely itchy… and therefore it never gets worn. Now is the time to move on. Make three piles from the clothes/accessories you're ready to get rid of: donate, sell, and trash. For the items to sell, there are many online sites you can use – Poshmark, ThredUP, eBay, but don't forget about the consignment stores in your area – these are always worth a visit too!
Additionally, many of us have loads and loads of photos. Digitally storing these not only provides peace of mind to know they're safe but also de-clutters. If you're not sure how to do this, there are many services out there that can help you with the process.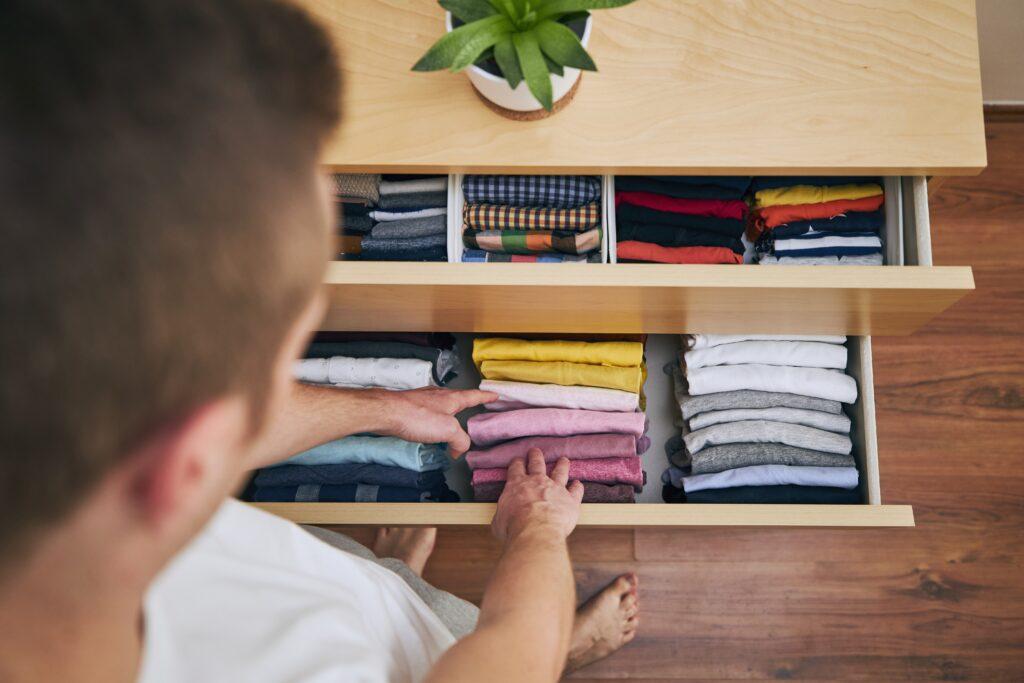 2. Go Green
You can use greenery to beautify almost any space in your home. Not only do they make a space feel more tranquil and soothing, but they're also purposeful in that they can help purify the air we breathe. Some places we love to add greenery are in the entryway or living room – adding a fiddle leaf fig tree or small olive tree in a really cool planter is a tried-and-true way to create a peaceful and beautiful environment.  For those who aren't blessed with a green thumb, we like snake plants – they look cool, are exceptionally easy to take care of, and are one of the best air purifying plants out there. Another commonly under-utilized area for adding greenery is your walls or ceilings! Planters on a wall or hanging from your ceiling can add so much visual interest and is such an unexpected way to make a big impact in a room. Think plants that drape down like "string of pearls", ferns, or ivies for these hanging options.
Quick Tip: You don't necessarily need to buy new plants or flowers. Maybe you have some in your yard that you can combine different cuttings to make your own arrangement. Or you can re-pot some of what you already have to make for additional indoor greenery.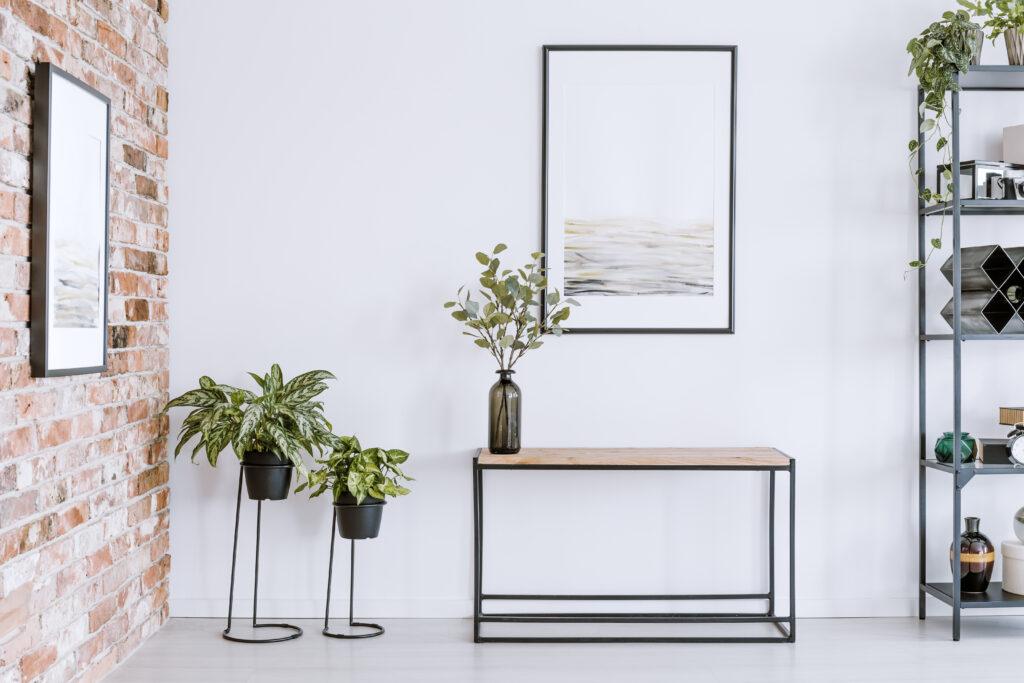 3. Small Changes That Make a Big Impact 
We get a lot of requests for bathroom remodels. And we get it – this is where you get ready for your day. However, many times renovations for this space go on the back-burner to focus on other areas of the house, say the kitchen for example. With both rooms, an easy way to make a big impact is to paint. Consider repainting your cabinets in a fresh color (even if it's just repainting a white with white). You'll be amazed at what a big difference this can make! Many times, it can help extend the life of space until you're able to make the remodel happen. If painting seems too overwhelming, just changing small things like the cabinet hardware and adding some new art and towels can still have a strong effect. And as we were talking about adding greenery, don't be afraid to add some plants or flowers to a bathroom- air plants love the humidity and practically take care of themselves!
Quick Tip: A little trick designers use to brighten up a space, is to hang or lean a mirror in a dark corner of a room. While we'd all love more natural light in our home, sometimes this isn't always an option. Using a mirror is an easy way to give the illusion of a brighter space and make it feel warmer and more welcoming. Another idea – consider changing out your rug. A great rug changes the vibe of your room and provides not only comfort but can serve as artwork for the space. We love Loloi Rugs for their variety of designs, colors, and price points – some of these are great for families as they are quite reasonably priced for the quality, hold up well, and clean up easily.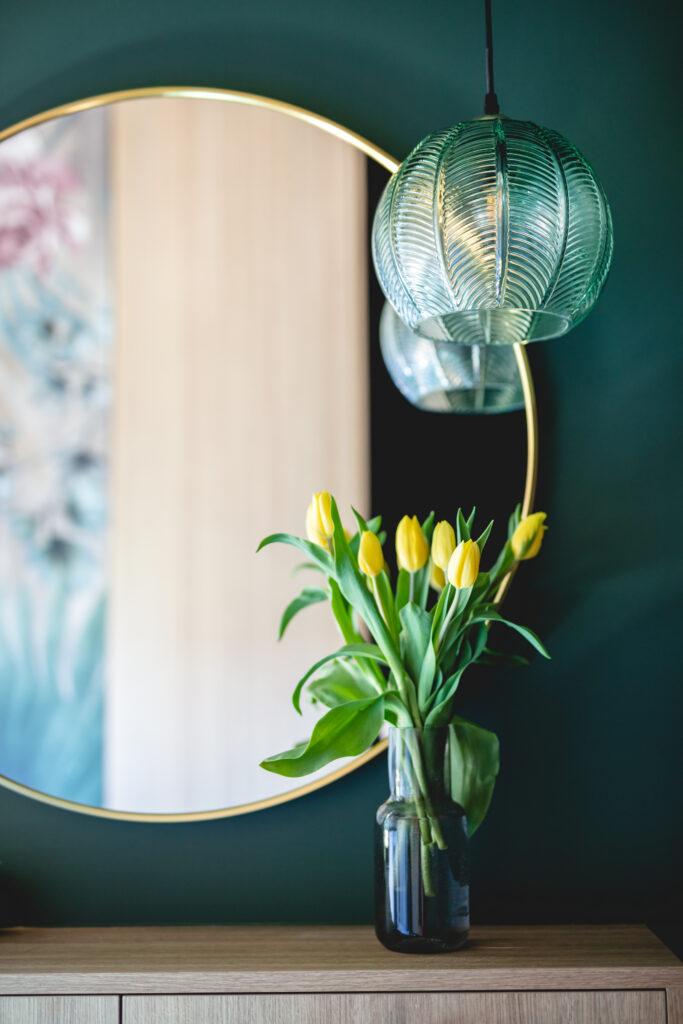 4. Lighting The Way
We all know this, but lighting is crucial in any space! The right lighting can make or break a room. A rule of thumb we use is to ideally have three types of lighting in a room – ambient, task, and accent. Ambient is used to light up a room entirely, or what you might traditionally think of when you consider lighting: chandeliers, track lighting, recessed lighting, wall lighting, etc. Task lighting is what the name implies: it helps one with a task. This includes table lamps, pendant lamps, under cabinet lighting, and so on. Accent lights are used to focus on a particular area of a room to highlight a feature; They give the illusion of a larger space. When KHD begins working on a project, one of the foremost considerations is the lighting configuration, starting with ambient and moving on from there.
Quick Tip: Even changing out your bulbs can really have an effect on a space by making it brighter and more functional! Adding a dimmer switch wherever possible is also a bright idea to increase its effectiveness!
5. Don't Be Afraid to Switch Things Up
As we've all spent more time in our homes, perhaps you've been looking at the same picture on the same wall for a while now. And wondering if it might look better in another room, or maybe to change that picture to a hanging wall basket… or perhaps to move a side chair to the other side of the room along with the floor lamp… and the list goes on. The good news is that when you have pieces you love, it's always fun to consider new ways to arrange them in your space. Perhaps you want to create special visual moments by combining objects, plants, and photos together in areas throughout your home. Or find a way to make the glassware/heirloom pieces you inherited from your grandmother a focal point in your decor. You can always switch things back, so go ahead and try something new!
Quick Tip: If new artwork isn't in the budget, creating your own is a fun option too! Take some extra fabric pieces and put them in a frame. Get your family or friends together to do an acrylic pour. Take some new photos and replace old ones. There are lots of ways out there to create your own art!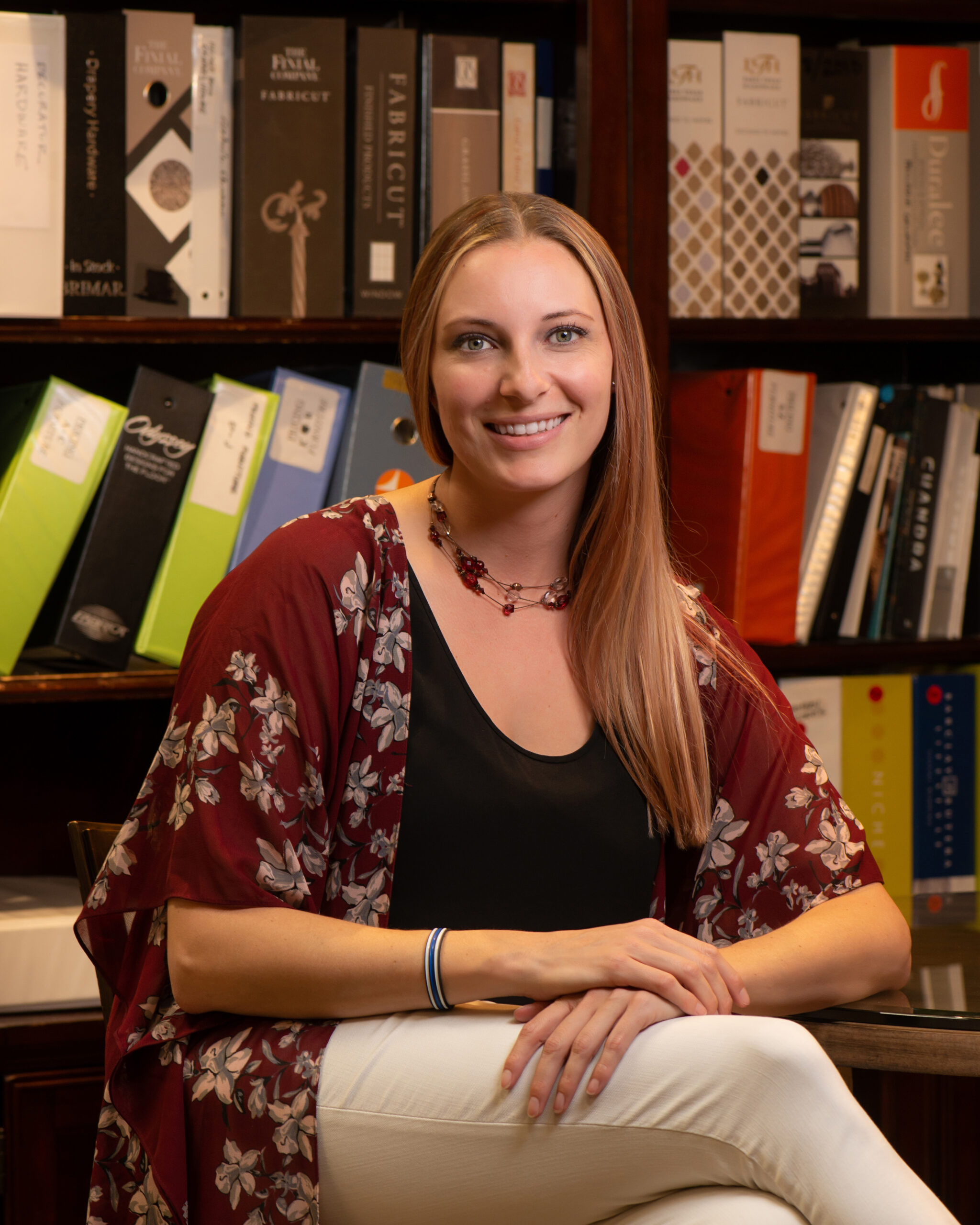 Kelsey Herrick is the founder and lead designer for her company Kelsey Herrick Design, LLC. Kelsey is passionate about using her experience as a  interior designer to create a space you love. Kelsey is known for her creative utilization of space, use of rich colors and textures, and problem solving skills. Contact Kelsey Herrick to learn more.