Summer is here! This means spending evenings and weekends relaxing by the pool, sipping cool drinks in the shade, and enjoying a BBQ with friends. The sunny California weather affords us the luxury of creating inviting indoor/outdoor spaces. This means we can design our outdoor spaces with many of the comforts from inside the home. By making outdoor spaces more comfortable, we can expand our living areas and spend more time making great outdoor memories with family and friends.
If you have spent any time looking at outdoor furniture you know that the options are endless. Deciding on what furniture and fabric are right for your space can be overwhelming, but never fear – we are here to help! From planning the right layout to selecting the right fabrics and finishes, we have some great tips to get you on the right path to a beautiful outdoor space.
First: Consider where you live – and be realistic.
For example, in California, we don't get a lot of rain (understatement), but our outdoor furniture takes a beating from the midday sun. Not only does it dull the paint and the wood, but it can also lead to cracks and splinters. Cushions and pillows might also get sun-bleached over time. Metal is mostly unaffected by sunlight; however, it captures heat and can be uncomfortable to sit on. Wood is beautiful and can be treated with a water/fade-resistant finish, but you'll need to plan on refinishing the wood every few years to keep it in good shape. If you have a covered patio or awning, it will protect furniture from the elements and help them last longer.
* Design Tip: Get furniture covers for your outdoor pieces to protect them from the elements when not in use. Store them in an outdoor storage box after they have been removed from the furniture.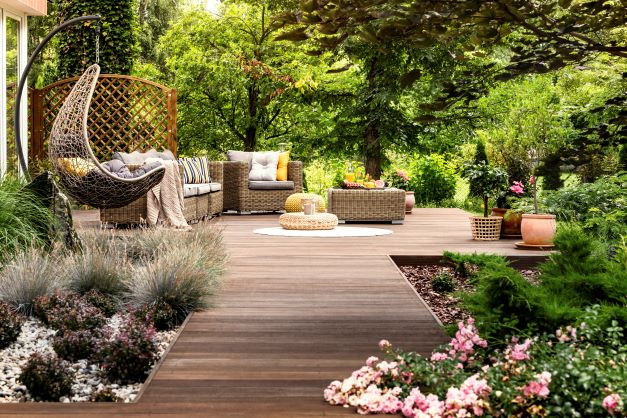 Second: Know your space!
We've all fallen in love with the perfect table or outdoor sectional at the store, only to get it home and find that it is too big (or small) for the space. Measure your outdoor living space first – this will help you know what will work and won't work. Write down the measurements, and keep them with you, so you won't have to try to remember them at the store. It also helps to take a small tape measure with you so you never have to guess the size of the furniture. Plan to start your outdoor design with a rug to ground the space. For sizing, at least the front two feet of your sofa and/or chairs should be on the rug. When in doubt, go a little bigger! From there, you'll know what size furniture will fit your space perfectly.
* Design Tip: If you have a smaller space, a bar table is a solid choice vs. a regular dining set. Bar tables are narrower, and stools take up much less space than chairs. Plus, they're inviting for your guests!
Third: Try it out at the store (if you can).
It isn't always feasible, but, if possible, take the time to see the furniture in person. Cushions that look well-padded online are sometimes harder in reality. Many outdoor furniture sets don't include pillows. It's wonderful to be able to customize your space with your favorite color or pattern, but it's also important to include all the pieces when adding up costs. If seeing it in person isn't possible, read the reviews to get honest feedback from other consumers, or ask questions if possible.
* Design tip: Don't think side chairs are the only choice! Rockers, Adirondack chairs, and chaise lounges are great options to consider.
Fourth: Educate yourself about fabric options.
There are several outdoor fabric options to choose from, with varying price points. Be prepared though, when it comes to fabrics, you do get what you pay for. These are some choices for California living:
Olefin (also known as polypropylene). Arguably the best fabric for outdoor furniture. Polypropylene was one of the first marine fabrics and has superior UV resistance compared to other fibers. It's a synthetic fiber, and as the color of the item is dyed into the yarn, it is highly resistant to staining and fading. It's great for active families. It dries quickly when wet and has no dye sites. Cleaning is easy – any household cleaner with bleach can be used.
Acrylic. Maintains its color and can bear 1,000 hours of UV protection. It can also withstand rubbing and tearing. The threads of acrylic fabrics are dyed first before woven which enables them to retain their color even when exposed to direct sunlight. It also stays cool in hot weather making it an excellent fabric choice for outdoor furniture.
Polyester. This synthetic material is durable and resists water damage and staining. It's tear-resistant and quick-drying too. While it won't be able to withstand long exposures to direct sunlight, it's durable and resists water damage. If you have shaded areas, this is a solid fabric choice for you.
* Design tip: When purchasing cushions and pillows, select a color theme, and stick with it! Mix in a few different patterns and textures, if possible, to create a lush look

Fifth: (and final).
If you're ready to move forward with purchasing outdoor furniture, make sure you budget in for good covering; there are many solid options out there at various price points. Also, purchase a good outdoor fabric cleaner – you might consider asking the sales associate what they recommend. It's always better to be prepared when unexpected spills occur.
We hope these tips help you spruce up your outdoor space so you can fully enjoy summer! If you want more help, direction, or facilitation, please feel free to reach out to us today!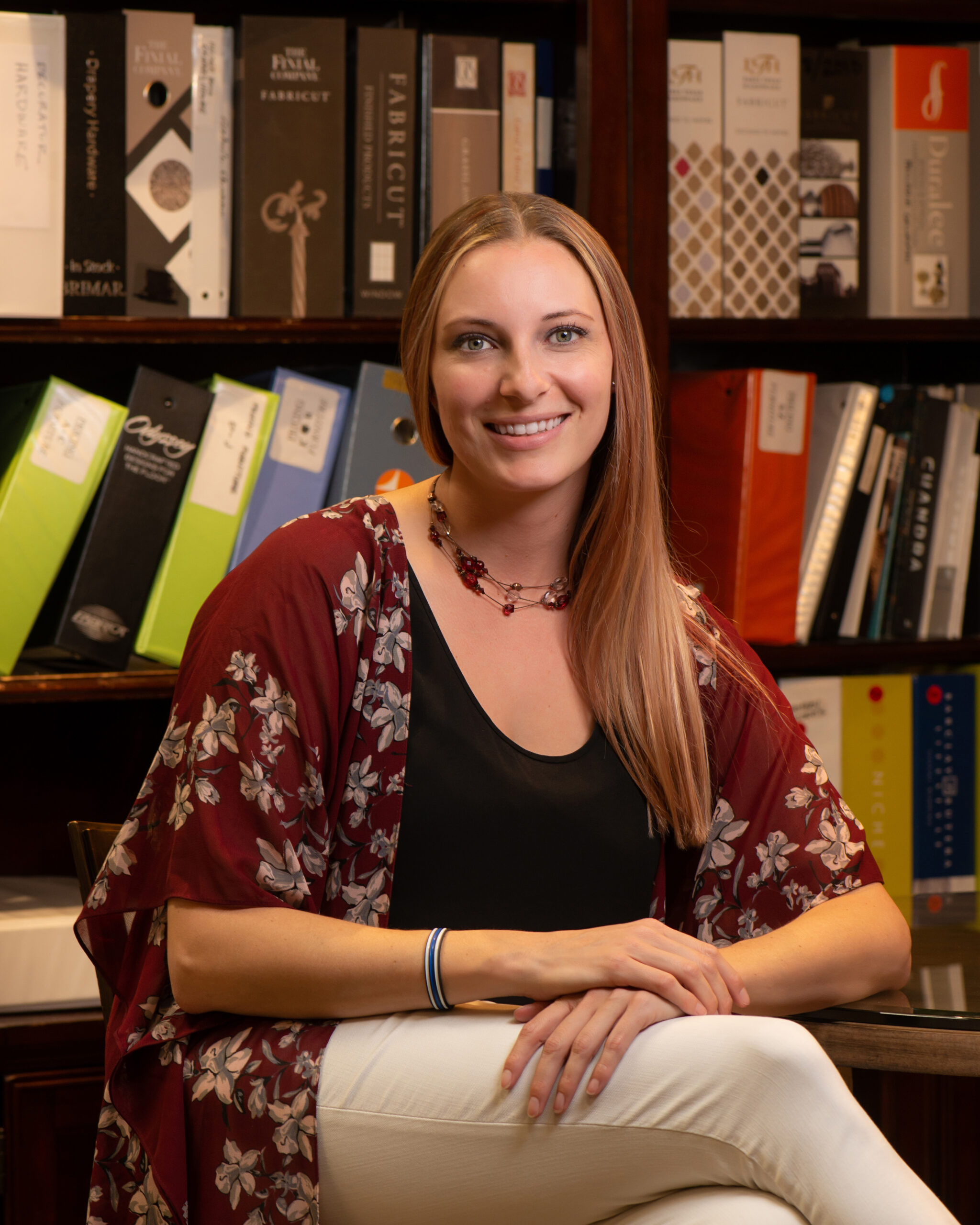 Kelsey Herrick is the founder and lead designer for her company Kelsey Herrick Design, LLC. Kelsey is passionate about using her experience as a  interior designer to create a space you love. Kelsey is known for her creative utilization of space, use of rich colors and textures, and problem solving skills. Contact Kelsey Herrick to learn more.